At Army Chiefs' meet, Rajnath Singh stresses need to collectively address security challenges faced by Indo-Pacific Region
---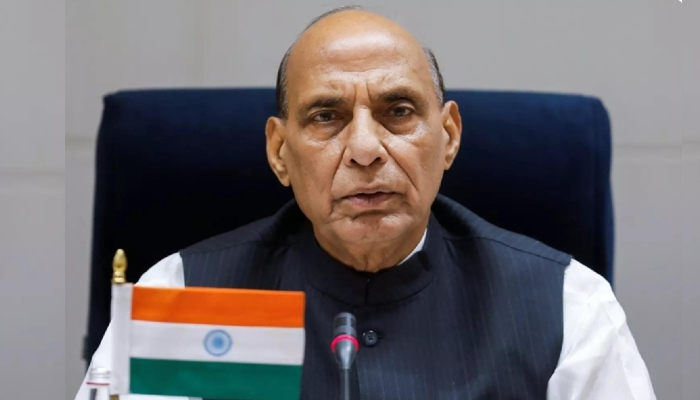 Security considerations have elevated the Indo-Pacific's strategic significance, Singh says
With the Indo-Pacific Region emerging as a pivotal geopolitical and strategic concept in recent years, there is a need to collectively address the security challenges it faces, including boundary disputes, Defence Minister Rajnath Singh has said.

According to Singh, security considerations have elevated the Indo-Pacific's strategic significance. "The region also faces a complex web of security challenges, including boundary disputes, piracy etc. The need to comprehensively deal with these security challenges has led to the full involvement of the states in the region, with all their organisations, including their Armies," he emphasized while delivering the inaugural address at the 13th Indo-Pacific Armies Chiefs' Conference (IPACC) in New Delhi.

Chief of Defence Staff General Anil Chauhan, Chief of the Army Staff General Manoj Pande and Chiefs of Armies and delegates of 35 countries were present on the occasion.

During his address, Defence Minister Singh also made the following observations:

1. The Indo-Pacific Region has emerged as a pivotal geopolitical and strategic concept in recent years, transforming from a primarily maritime concept into a comprehensive strategic framework. This transformation underscores the evolving dynamics in one of the most economically vibrant and strategically significant regions of the world.

2. India has always stood for a free, open, inclusive and rules-based Indo-Pacific Region, in the pursuit of shared security and prosperity. 'Neighbourhood First', has always been the cornerstone of our culture since time immemorial. India's approach to the Region is defined by its 'Act East Policy'.

3. India's efforts towards building robust military partnerships with friendly countries underscores our commitment to not only safeguard our own national interests but also addressing important global challenges being faced by all of us.

4. States must recognize that there are global issues and challenges involving multiple stakeholders that no one country can address in isolation. They need to engage with the broader international community and work collaboratively through diplomacy, international organizations, and treaties to tackle common concerns within the overlapping 'Circles of Concern'.

5. At the same time, states should identify and seek to expand their 'Circle of Influence' to promote their national interests on the global stage. This may involve building partnerships, participating in regional organizations, and employing diplomatic, economic, or military tools strategically.

The Indian Army and the United States Army are co-hosting the 13th IPACC, 47th IPAMS and 9th SELF, a three-day conference of Chiefs of Armies and delegates of 35 countries from the Indo-Pacific Region, in New Delhi from September 25-27, 2023. The central theme for this forum is 'Together for Peace: Sustaining Peace and Stability in the Indo-Pacific Region.'

According to the Ministry of Defence, the conference will provide an opportunity for Army Chiefs and senior-level leaders from land forces, primarily of the Indo-Pacific region, to exchange ideas and views on security and contemporary issues. The core effort of the forum will be to promote peace and stability in the Indo-Pacific region through mutual understanding, dialogue and friendship amongst the littoral partners.